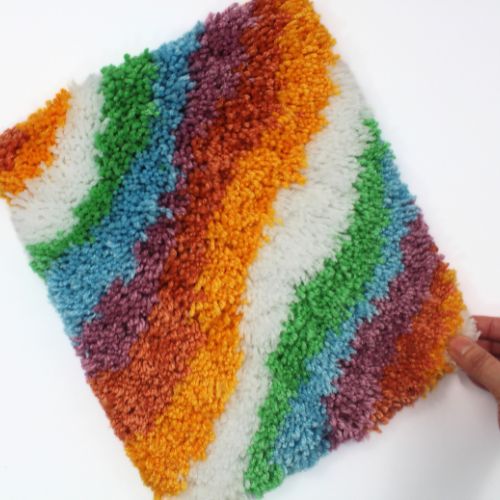 Latch Hook Tapestry DIY Kit | Fiber Art Kit | Latch Hook | Latch Hook Kit
Kit Color Palette:
Hibiscus - Pinks and Purples
This DIY Latch Hook Kit provides all the tools and materials needed to create a Wall Tapestry - Latch Hook contemporary fiber art piece. The latch hooking is a craft that ensures each piece of yarn is securely attached to the canvas. With quick start instructions and pattern included, you can get started on your fiber art journey right away. Get creative and make something unique and special that can be proudly displayed and admired.
**Kit includes:
- Premium Zweigert Latch hook canvas - cut to size for finished item approx 10"x12"
- 6-7 pre-cut yarn lengths based on pattern
- Latch hook tool
- Dowel, rope, tapestry needle, and yarn to create wall hanging 
- This is not a finished piece - it is just that materials and pattern to make a project
- Detailed Tutorial / Full Instructions are available by download - See Separate Listing
The product(s) you receive might vary slightly from the product picture due to the nature of your computer screen resolution colors.
I do my best to represent and describe each item accurately but due to the handmade process, items may slightly vary.

Care for your new product(s) by:
* Removing item from packaging and hanging wall décor right away
* Use care and caution when handling your wall hanging – it is delicate in nature
* Avoid placing heavy objects on wall hanging as this will cause damage
* Avoid pulling on fibers as this may unravel and ruin your wall hanging