announcement
Flat Rate Shipping in Canada
Now offering Flat Rate Shipping on items along with Canadapost carrier rates within Canada.
Also - now shipping internationally to US, UK, and Australia.
Creativity Never Goes Out Of Style
Treasured Fiber Art Designs
Blue Rhubarb designs stylish and modern fiber art décor that add a touch of whimsy and texture to your home. We aim to bring elegance and warmth into every detail that ensures each wall hanging will be treasured for years to come. There is a passion for handicrafts here that bolster mood, reduce life stresses, and promote overall well-being!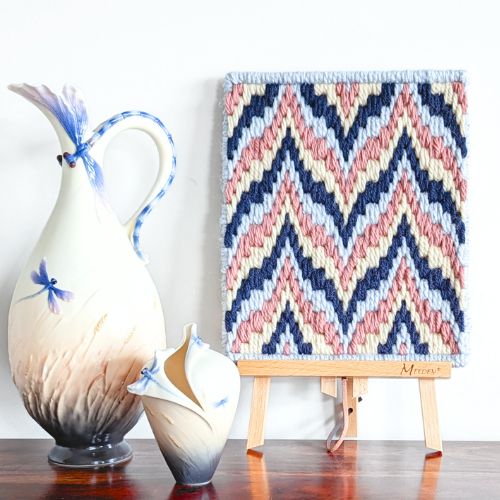 NEW NEW NEW
DIY Bargello Kit | Bargello Tapestry
Research has shown that crafting and making can bolster mood, improve self-confidence, and reduce overall stress. Needlepoint is a great project for just that!
They have arrived!!
DIY Latch Hook Kits | Fiber Art Project
Whether you're looking for a weekend project and need something to do or want to try the basics of latch hooking, then these DIY kits are for you!
Make your own Round Fiber Art Wall Decor, pillow, or seat cushion. Perfect for beginners!
Knit Coffee Cozy | Felt Cup Sleeves
Looking for the perfect gift for a friend, sister, teacher, etc? We have you covered with a variety of coffee cup cozies and new design styles arriving regularily.
DIY Kits | Fiber Art Bundles
Make your own round weaving with these Signature Gold Threads Round Weaving Kits.
SHOP
Blue Rhubarb Collections
Gold Art Yarn Canvas Collection
Coiled Art Yarn Collection
I LOVE IT!!
Its so well thought and original. I look forward to adding more of your weaves to my home!
Melissa
gorgeous!!
I LOVE this colour palette. WOW, I'm just so happy. Thank you!
Carla
thanks so much!
I just received my weave. It is so beautiful, thanks so much! I can't wait to purchase more!!
Ashley